MUCH BLA BLA IS NOT WITH US
We create websites that have it all. Whether you want to use a CMS or not. Functionality, user-friendliness and design are taken into account in every website with the highest demands. HTML5 in conjunction with CSS3 for your crossmedia website.
Photography, Drones & 360 °
Whether product images, portraits or event and sports event photos: we take the pictures you need. Simply beautiful, simply simple. Even aerial photographs or, depending on the size of the room, indoor shots of your company and your premises may be possible.
What do you really need? Simply the best there is? Here, the ghosts divide what the best e-commerce system is. Which functions are supported and which ones do you need? Questions about questions! We bring the lamp for you and bring light into the confusion.
We do not host the big crowd. This always guarantees consistent server performance. Even backups of your web pages you hardly need to worry about.
Not only Newmedia Design, we also offer you the old-established print media with the added value of good advertising: flyers, business cards, catalogs, posters and more.
The foundation of success lies in the optimization of your website or online shops. Because the most extensive website misses its purpose if it is not found.  
Looking for WordPress Specialists? Then you can stop looking!
WE MAKE YOUR WEBSITE MOBILE
With a mobile website, you enable your visitors and customers to navigate quickly and securely with all their devices.
Appealing and flexible is not possible? Your website will not only look good in the mobile sector, but also be functionally designed
We always pay attention to a clean and traceable coding of your system. It does not matter if you use a CMS or an online shop
Nothing is more important than loading times of a website. We bring the last bit of performance out of your side with a few interventions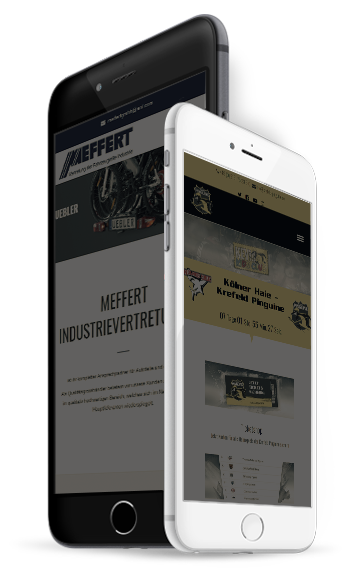 Whether Apple or Samsung, Huawei or Nokia, we really do not care. Your page must always look the same on every device.
The cornerstone of a successful site is that the entire structure complies with current SEO regulations.
On risks and side effects of a mobile site … Again, we are happy to assist you with advice and practical help.
Just write us an e-mail and ask, because ask and good service cost nothing!
The Webagentur-Meerbusch is your powerful partner on the way to a commercially successful and visually inspiring Internet presence. No matter what service you need on the way to success, if you can put it on the net, we can build it. By specializing in various CMS and shop systems, we can offer you the optimal solution for every project. From the idea to the design, over the care up to the optimization we take care of all interests of your Internet appearance. We stand for fairly calculated prices and solutions within your budget.
Start your project with us
Just write us an e-mail and ask, because ask and good service costs nothing!